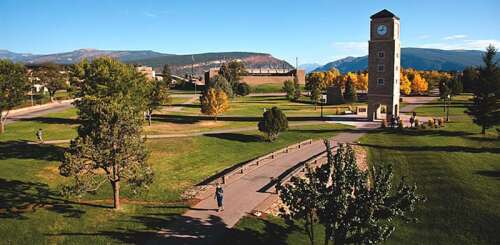 Fort Lewis College builds on Native American and Native American programs – The Durango Herald
[ad_1]
The school will use a grant of $ 950,000 for new staff, curriculum and student opportunities
Fort Lewis College is establishing its Department of Native American Studies with a Social Justice Grant from the Andrew W. Mellon Foundation. (Courtesy of Fort Lewis College)
Fort Lewis College is stepping up Native American and Native American programming with the help of a $ 950,000 grant from the Andrew W. Mellon Foundation.
FLC plans to use the grant money to create new permanent positions in the Native American Studies Department, launch a new social justice program, and provide financial assistance to transfer students from community colleges. The expansion is part of the college's focus on improving diversity, equity and inclusion for students and staff.
"What we really want to do is make our Native American and Native American students feel that they can shape the world by leaving Fort Lewis," said Cheryl Nixon, president and vice president of academic affairs.
The Mellon Foundation contacted FLC about grant opportunities in January as part of its 2020 goal of directing grants towards social justice causes.
The college responded with a grant proposal to build the capacity of the Native American Studies Department, located within the Arts and Humanities. The proposal was accepted in June and the money was released on Thursday.
Over three years, FLC plans to use the grant money to hire a new cohort of Native American and Native teachers, offering three permanent positions and one rotating visiting professor position in the NAIS department.
"The Mellon was just a great opportunity for us (…) to try to create our Native American Studies department," Nixon said.
The cohort of faculty will help teach undergraduate Native American studies, language, literature, and history at the college's boarding school.
Fort Lewis became a residential school in 1891 after serving as a military post in conflicts between Native American tribes and Western settlers. Residential schools forcibly separated Native Americans from their culture, traditions and languages. Fort Lewis Residential School closed in 1910.
"This is an exciting time for FLC and Native American and Native Studies as our Native students demand more professors who are like them and who can relate to them," said Lee Bitsóí, associate vice president of Native Affairs. diversity and the President's Special Advisor on Indigenous Affairs. "In addition, with more native professors, we will be able to offer more study programs throughout the college. "
In the new "Research and Reconciliation" social justice program, undergraduates will have the opportunity to participate in summer programs, with financial assistance where applicable, and then join a paid research assistant position. They will also have access to new permanent courses focused on Native American and Native language, storytelling and history.
"We were trying to create a program that would really engage students and get them excited to do new kinds of research," Nixon said.
The third aspect of the grant proposal is to help community college students achieve a four-year degree.
The college will use the grants to provide financial support to students transferring from Four Corners to FLC. The financial aid is focused on Native American college students, first-generation college students and other students of color, Nixon said.
As part of LTC's diversity, equity and inclusion goals, the college creates training modules for students, faculty and staff to understand the history of the school as a Native American federal boarding school and the origins of Native American tuition exemption, Bitsóí said.
"We have a diversity, equity and inclusion plan that includes creating a holistic framework to ensure a strong sense of safety and belonging on the FLC campus," said Bitsóí. "These training modules will clear up any misconceptions or misunderstandings from non-Indigenous students, staff and faculty. "
With the grant from the Mellon Foundation, FLC will be able to engage with its story in new ways. Students will have new tools to study connection, reconciliation, and what it means to be human in arts and humanities classes, Nixon said.
"How can we accept this and integrate it into our program? How can we get students to reinvent new futures and possibilities? Nixon said.
It's about coming together to solve difficult questions, she said.
"Once the students know how to do this, they can leave Fort Lewis and face anything," Nixon said.
[ad_2]