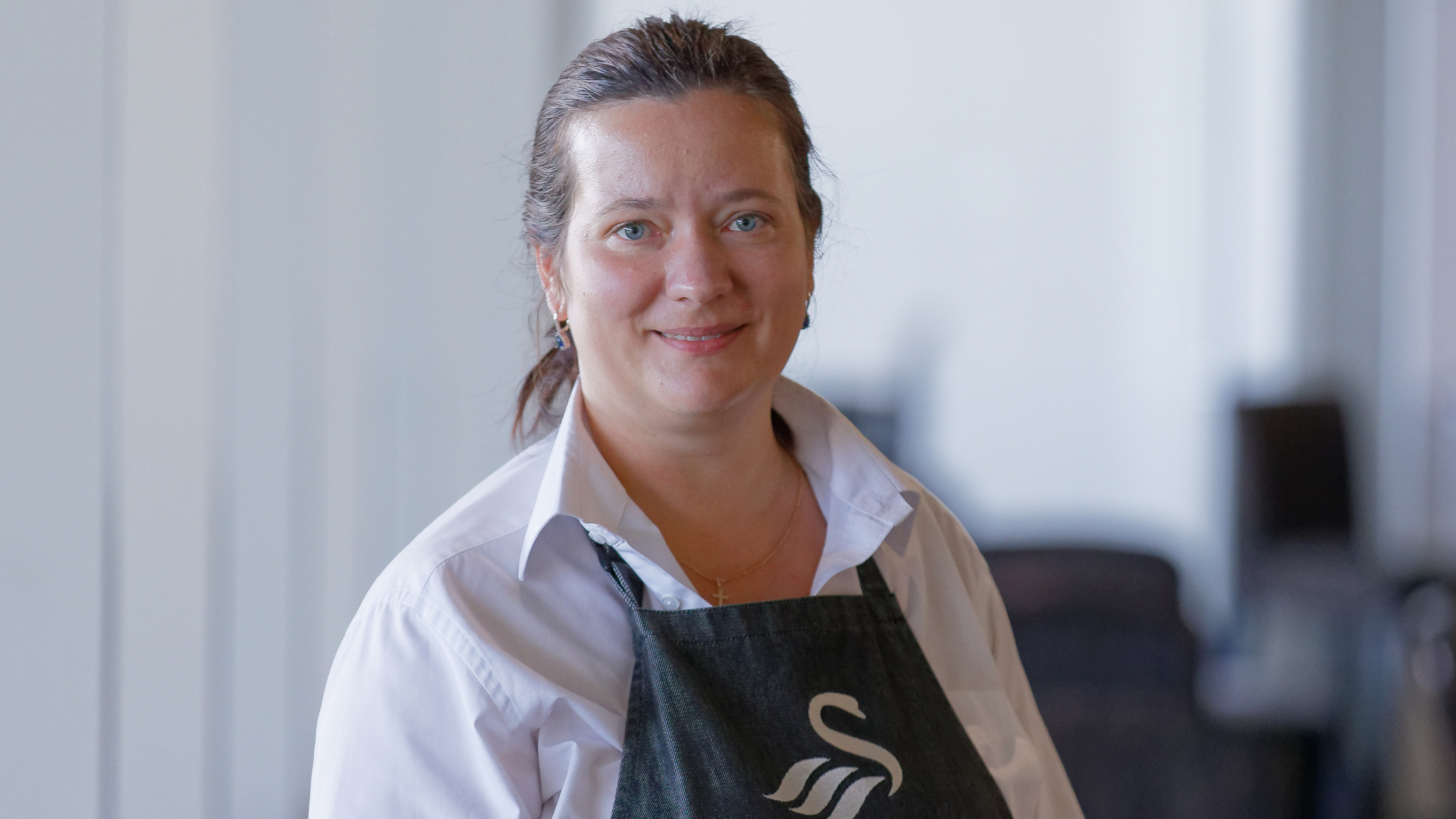 Mariana Chikalska | Starting over in Swansea after fleeing war in Ukraine
"I had never seen football in Ukraine, but now I understand who is playing and I always ask: how many goals? I watch football from time to time and I'm interested in it now.
Finding work was an important step for Mariana and her family. It gave her the freedom to leave her aunt's two-bedroom house, which had become crowded with so many people under one roof, and allowed her to feel more like herself again, more like a human being.
"It's important to have a job," she explains.
"People have to have this control over their lives, they have to have enough financial means to support their families.
"My English is still not good enough to work as a teacher here. Learning the language is the first step, then the recognition of teaching diplomas, and probably some courses to find the previous job.
"It will take time. You have to know the way back and you have to take action – that's what I'm doing.
"I like to work and I like this job. It's different from what I did in Ukraine, but the people I work with are patient with me.
"During my shift, people come to see me and they say to me: 'we watch TV and we saw the news from your country' and at the last Ukrainian success, people congratulated me.
"Or they tell me: Привіт (private – Ukrainian for hello).
"People here don't know the Ukrainian language, so they had to look it up and learn it. It's so nice, it means so much!
"I feel a lot of support. I work in the same salon with Kim all the time, so I see a lot of the same people and guests.
"Customers understand that I am Ukrainian and they want to show their support, they always ask me: 'How are you? How is your family?"
Among those who check it regularly is Swans legend Alan Curtis, who is based at the Swansea Building Society on match days.
"He's always so nice too," she continued, pointing to the club's honorary president as he posed for a selfie with a fan.
"Everyone is so nice. I want to say it all the time "thanks for the patience".
"I understand how difficult it can be to have to repeat something three times for me to understand it. People are patient enough to do that.
"It's not so easy when you work with people who don't speak the same language, but to everyone who works with me on my shift, I want to say thank you.
"The club helped me take a lot of courses which gave me a better understanding of what I was going to do in the job and it helped me get the qualifications I needed.
"It's great that the company helps its employees. I appreciate that attitude: it's not like you just work your shift and walk away.
"The atmosphere is different and the approach is different, and I am very grateful for all the opportunities that have been given to me for my personal and professional development.
"The lessons support my English and I have the chance to practice. There is also a lot more information they provide as well as knowledge and skills.
"I'm grateful for that, it helped me a lot.
"I would like people to know that every Ukrainian here has their own story, that all people are different, but you in Wales have restored my faith in people."